Rachmaninov-Symphony No 2 

The great success of the Gala concert of 25 November 2001 at the National Philharmonics in Warsaw, was quoted to be one of the most important events of the Polish season.

Held under the distinguished patronage of the President of the Republic of Poland, the concert inaugurates the collaboration between Sinfonia Varsovia and world famous Argentinian singer and conductor, José Cura, who has been appointed this year (2001) the Principal Guest Conductor of the orchestra.

Highlight of the program, Sergei Rachmaninov's Second Symphony, was subsequently recorded for commercial release, the 3 and 4 of December 2001

Sergei Rachmaninov Second Symphony in E minor opus 27

José Cura Conductor

Sinfonia Varsovia Orchestra

Producer's Catalogue number CPV 001

Deposito Legal M- 40264 - 2002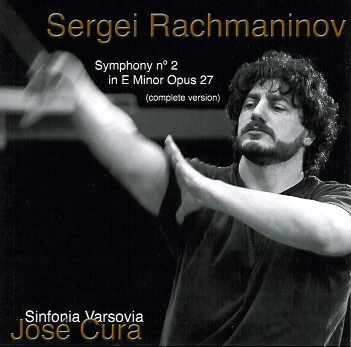 My review:

On
November 29, 2002
, did José Cura conduct this symphony in Konzerthaus Wien. And I would never have come to get to know this music if it wasn't José Cura, the tenor who conducted it. Live he is even more exciting as a conductor, which is pretty amazing when one know all the time and perfection one can put into a studio recording, and that LIVE you cannot correct even one beat.
I really like this CD. So it is great for me to have one symphony CD among all my opera CDs. If you are going to buy just one symphony CD this is the ONE: