Giuseppe Verdi

OTELLO

Verdi's Shakespearian masterpiece: an opera in four acts

Otello: José Cura

Desdemona: Krassimira Stoyanova

Iago: Lado Ataneli

Cassio: Vittorio Grigolo

Emilia: Ketevan Kemoklidze

Roderigo: Vicenç Esteve Madrid

Lodovico: Giorgio Giuseppini

Montano: Francisco Santiago

Herald: Roberto Accurso

Symphony Orchestra and Chorus of the Gran Teatre del Liceu

Antoni Ros-Marbà, Musical Director

Willy Decker, Stage Director

Recorded live at the Gran teatre del Liceu, Barcelona in February 2006

Picture format: NTSC 16:9 Anamorphic

Sound format: DTS Surround / LPCM Stereo

Region code: 0 (All Regions)

Menu Language: English

Subtitles: English, French, German, Spanish, Italian, Catalan

Running time: 151 minutes

No. of DVDs: 2

Label: Opus Arte DVD

Catalogue No: OA0963D

Barcode: 809478009634

Bonus Material:

Introduction / Illustrated Synopsis / Cast Gallery

Distribution Note(s):

For Europe only:

Buy from www.jpc.de


   * The first of Verdi's two late Shakespearian operas stands as one of the great masterpieces of grand opera. José Cura, ranked among the world's leading interpreters of Verdi's music, takes the title role in Willy Decker's profound and intense production, recorded live at the Liceu, Barcelona in 2006 in true surround sound and filmed with high definition cameras.

   * This is Willy Decker's acclaimed minimalist and symbolic production originally created for La Monnaie

'Verdi's wise, passionate score was served with precision, gusto and a keen ear for drama by maestro Antoni Ros-Marbà and the solid, malleable Liceu orchestra.' Opera News

'José Cura has the vocal colouring, the power and strength, but above all the dramatic temperament that this colossal Verdi character demands.' El Pais

'…the Bulgarian soprano Krassimira Stoyanova captivated with her sensational Desdemona. Hers is a lyrical voice of great beauty, with sufficient volume used with taste and transmitted with both sweetness and firmness.' El Pais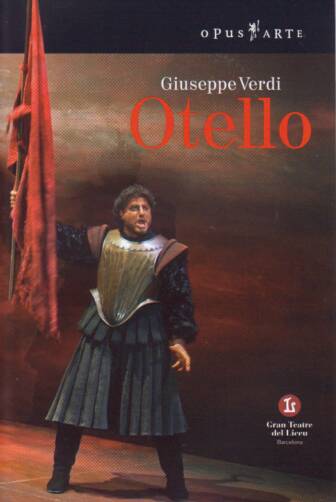 Youtube video
of Esultate from this Otello. Beautiful singing and great acting, but the production is bad. I have seen Jose Cura as Otello 5 times;
Zurich 2002-07-13, Hamburg 2004-05-29, 2004-06-05, Munich 2005-07-02, 2005-07-05.
All the times the production was more to my liking than this Barcelona production. Just look how the stage tilts, and the
photos
of the
chorus
is stupid costumes. One positive thing is that in this production Jago (Lado Ataneli) really shows how innocent he appears to Otello (Cura). It is almost only Cura that have costumes that look OK. And another thing that bugs me is the baller dancers, stupid and ugly and most of all they have absolutely nothing in Otello, just another bad idea by Willy Decker.